HERBS AS FOOD: CHICKWEED – THE STAR OF YOUR EARLY SPRING SALADS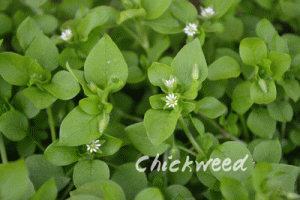 By Amy LeMay
When everything in the garden has died back in the winter, you can count on Chickweed (Stellaria media) to be gorgeously green and available.  ChickWEED as you may guess is usually a volunteer anywhere that soil has been disturbed and it loves rich soil, so around the edges or within the garden in the winter you are likely to see it in large clumps. You may find it along the foundation of buildings and along sidewalks.  You can recognize it by its small, tender, opposite leaves and it may have very tiny star shaped white blooms.
Chickweed is wonderfully nourishing, rich in minerals with no bitterness, just a little saltiness to it so it is a great addition to any salad.  You can replace the parsley in a potato salad or other recipes with chickweed but never cook it.  It is at its best fresh and raw.  Chickweed can help alkalize the body, neutralizing acidic blood.  Here is a crowd pleasing favorite of mine.  This recipe feeds a dinner party but you can size it accordingly.
Ingredients
2 cups fresh chopped chickweed
1 medium cucumber, thinly sliced
1 cup edamame beans or snow peas
1 cup shredded carrots
3 tbsp. miso paste (white or red)
2 tbsp. rice or balsamic vinegar
2 tbsp. hot water
1 tbsp. minced ginger
1 tbsp. maple syrup
1 tbsp. sesame oil
1 tsp tamari
1 tbsp. lemon juice to taste
sesame seeds (for garnish)
 Instructions
In a large bowl, combine chickweed, cucumber, edamame beans and carrots.
Whisk together miso and hot water until well-combined. Whisk in vinegar, ginger, syrup, sesame oil, lemon juice and tamari, then combine with vegetables. Garnish with sesame seeds.
Chickweed is nutritive to glandular and lymphatic systems.  A tincture of chickweed is excellent for balancing the thyroid along with other supports.  It is soothing, demulcent and cooling to a hot digestive system or lungs.  If any of you are like me, and affected by the Douglas fir pollen in the early spring.  Chickweed helps as a tea or tincture and of course as part of my veggie regimen to alleviate the red itchy eyes and runny nose with sneezing.
For more recipes and information on chickweed, try "Healing Wise, Wise Woman Herbal" by Susun Weed.  You can find it in most libraries or a used book store.
Green Blessings and eat well!